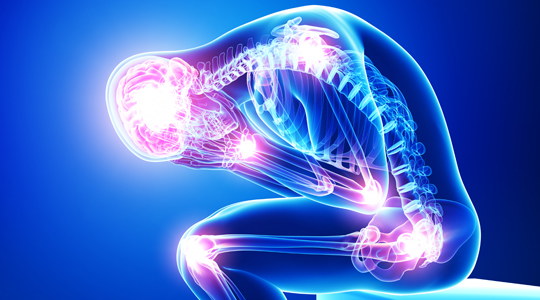 Immune Abnormalities
Fibromyalgia has symptoms that resemble those of some rheumatic illnesses, including rheumatoid arthritis and lupus (systemic lupus erythematosus). These are autoimmune diseases in which a defective immune system mistakenly attacks the body's own healthy tissue, producing inflammation and damage. The pain in fibromyalgia, however, does not appear to be due to autoimmune factors, and there is little evidence to support a role for an inflammatory response in fibromyalgia.
Fibromyalgia and Sleep
For people with fibromyalgia, the combination of pain and sleep disturbance is a double-edged sword: the pain makes sleep more difficult and sleep deprivation exacerbates pain. The good news is that reduction in sleep disturbance is usually followed by improvement in pain symptoms. This also highlights the importance of healthy sleep and to find a sleep professional in treating this disease.
For People Who Have Both Fibromyalgia And A Thyroid Condition
There are many people who have both fibromyalgia AND a thyroid condition.  For these people, the process is typically the same, as the goal will be to find the underlying cause of these conditions through the necessary testing (Adrenal Stress Index, Hormone Panel, Hair Analysis, tests for nutritional deficiencies, etc.), and then address these causes as necessary.  I've consulted with people who had fibromyalgia who were taking over one dozen medications.  And in many of these cases the medication did a poor job of managing their symptoms.  This isn't meant to criticize anyone who takes prescription drugs to manage the pain and other symptoms, but for those taking numerous medications and are still feeling terrible, following a natural treatment protocol just may be the answer of getting your life back.