Only a few of you might think of going to any of the countries in Arabian Peninsula. But, not like what you think of any Arabian country, Dubai is different because this is the place of cosmopolitan culture. As one of the 7 emirates in UEA, Dubai is also the second oil rich emirate. It is also the largest gold traders, and dubbed the City of Gold. Are you curious yet? Here are 5 places you have to visit when you are in Dubai.
1. Malls of Dubai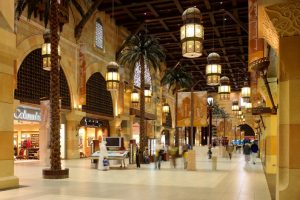 There are many malls in Dubai that are worth visiting. Ibn Batutta Mall is build to commemorate the travel experiences of Ibn Batutta, an Arabic traveler. Mercato Mall is unique with its Tuscan and Venetian architecture plus the majesty of Renaissance. If you want a complete journey of entertainment, shopping, leisure, and food, come to Dubai Mall. For those who love Egyptian touch, Wafi Mall is the answer.
2. Desert Safari
The trip through the desert might be exciting for those loving adventure. You will be taken by wheels across the desert, and also camp as part of the safari. On a camp, you can enjoy the desert, the sky, and the entertainment including Mahendi artists, belly dancers, Tanaura dancers, camel ride, dune bashing on bikes, and Faconery. Plus, you will also taste the tasty Arabic cuisine.
3. Palm Jumeriah
Palm Jumeriah is three man-made islands, in the shape of palm tree. Pemandangannya yang indah menjadikan tempat ini favorit para skydiver. Pulau-pulau ini memiliki apartemen dan villa mewah, dan bahkan Atlantis Hotel yang megah.
4. Atlantis Hotel
Located in the palm-tree islands, this hotel is one of the must-visit places in Dubai. This 5-star resort uses the story of the lost kingdom of Atlantis as the theme. There are a lot of stunning attractions, including ambassador Lagoon, the Lost Chambers, the Dolphin Bay, and the Aquaventure waterpark.
5. Burj Khalifa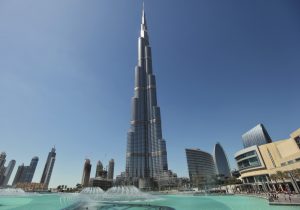 Burj Khalifa is the world's tallest tower, with the height of 828 meters. You will be able to enjoy both its magnificent architecture and the night glittering view of the city.
Source: www.expatsblog.com