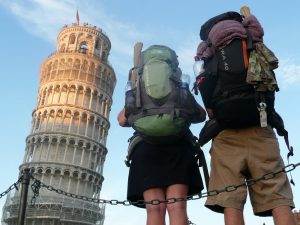 Backpacking in Europe is what everyone in the world wants. It's like you are adult when you've been backpacking there. However, here are some of the tips you should read before starting your Europe backpacking journey.
Choose the Right Backpack
Choosing a good backpack is like an investment, no matter how long you will go. You should find a backpack which has strong internal frame (external frame can make the backpack looks bulky). You also need to consider the straps which are well-padded to help transfer the weight from the back/shoulder to the hip.
A front loading backpack which allows you to access the inside without needing to dig is better than the top loading. You have to choose backpack based on your body weight, shape, and height. Many people tend to choose bigger backpack but in fact it can cause pain and injury if it does not suit your body.
A backpack which is attached with smaller backpack is also a nice choice because it can make it easier for you to move from one place to another. If there are locks to secure your stuff, that will a plus point.
What to Pack
You need to bring clothes to wear under one week because during the traveling, you can laundry every one or two weeks. There are some ways to pack and you can choose based on your preferences. Remember the season of the place you visit. Is Europe winter or summer now? If you stay for a long period, you can send home some stuff that you no longer need.
Because you will stay in hostels, you must bring your pillow case, bed sheet, flip flop, cooking utensils and pot, toiletries, and detergent. Rather than umbrella, you can also bring a light windbreak or rain jacket with a hood. Pack your copy of travel documents (and send via email the scans of them). Since Europe is big, bring with you a guidebook for the references of places to go.
Are You Backpacking Alone or with Friends?
1. Backpacking Alone:
– Pros: independent, tend to meet more new people, have a chance to find "yourself'
– Cons: you have to bring everything you need by yourself because you have no one to share with
2. Backpacking with friends:
– Pros: you have someone to share the needs and someone to laugh or have fun with
– Cons: it will need a lot of patience because everyone has their own wants and needs (tips: before going discuss some important things, including the travel goals, budget, destination, and pace.
Budgeting
Budgeting will include the accommodation, where to go, and when to go, and all. Read 6 Budget Travel Tips to Europe for more information.
Source: www.divinecaroline.com