If you're on your way of losing weight, lunch can be another challenge after breakfast. However, it doesn't mean that you can't lose weight while consuming delish lunch. Here are some ideas of healthy lunch for your weight loss program.
1. The Yummy Tuna-Avocado Sandwich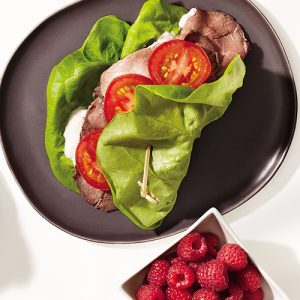 Mashed 1/3 avocado and put ½ tablespoon of lemon juice on it. Put this combination on top of 4 once of drained albacore tuna. Now it's time to make your yummy sandwich. Spread out a piece of butter lettuce. Put your avocado-tuna on top of it. Make the sandwich healthier with a slice of tomato and red onion. And…your sandwich is ready to eat.
2. The Tasty Tofu Salad
Put 1 tablespoon of soy sauce, 1 tablespoon of almond butter, and 1/8 tablespoon of minced garlic and stir it all. Add 4 once of thinly sliced tofu and 1 cup of slivered snow peas. Stir again. Put this tasty combination on a plate. And on top of it, spread ½ tablespoon of sesame weed. Eat the salad along with 2 Scandinavian crispbread crackers.
3. The Toothsome Salmon-Avocado Sushi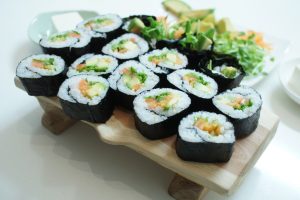 Let's make a sushi-like lunch. Lay out 2 sheets of nori seaweed. As the filling, put on top of it ¼ cup of cooked rice noodles, ½ thinly sliced avocado, 2 once of thinly sliced smoked salmon, ¼ thinly sliced papaya, and 1 tablespoon of chopped scallions. Roll them up like the Japanese sushi. After cutting them into some pieces, gives some lemon juice as the season and salt and pepper for the taste.
4. The appetizing Salmon Cucumber Boats
Pick one cucumber and halve it lengthwise. Hollow each of the half and put them aside. Now, let's prepare the filling. Combine 3 once of drained canned pink salmon with 1 teaspoon of yellow mustard 2 tablespoon of plain low-fat yogurt, and 1 tablespoon of capers. Add pepper and salt for taste. Put this filling into the hollowed cucumber.
5. The Savory Pumpkin Mix
Toss 1 cup of cubed pumpkin and ¾ cup of Brussels sprouts with oil. Roast them at 350o for 30 minutes, turning halfway through. Remove from oven, and add it with 2 tablespoon of olive oil, 1 once of crumbled goat cheese, 2 tablespoon of balsamic vinegar, 2 tablespoon of yellow mustard, ½ medium sliced pear, and 2 tablespoon of pistachios. This will be a perfect choice for a delicious healthy lunch for weight loss.
If you consider taking supplements in your weight loss program, you'd better read this first.
Source: www.womenshealthmag.com